The Holidays are rapidly approaching and with that a sense of loneliness and questioning of our self-worth for many in the world. I would like to share a story with you that SRF monk, Brother Sevananda related at a recent inspirational service.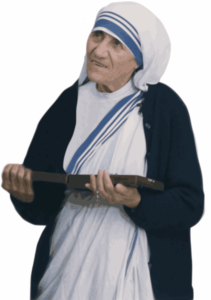 Mother Teresa had just received the Nobel Peace Prize in Stockholm and she stopped in Rome on her way back to India.  While in Rome, a reporter asked to interview her and in fact, was challenging her about the seeming futility of her efforts to make a difference in the world. Here is that interview:
R (reporter). MT (Mother Teresa)
R: Mother, you are seventy now. When you die, the world will be as it was before. What has changed after so much effort?"
MT: responded with a smile, "You know I never wanted to change the world. I've only tried to be a drop of pure water in which God's love can be reflected. Does that seeming like a small thing to you?'
R: fell silent
MT: "Why don't you try, too, to become a drop of pure water? Then there'll be two of us. Are you married?"
R: Yes, Mother Teresa.
MT: "Great! Then go home and tell your wife, then we'll be three. Do you have
Children?
R: Three children
MT: Excellent! Then there'll be six of us already!"
Brother Sevananda continues with Mother Teresa' in her sphere and us in our sphere, it's like throwing the pebble into the pond.  Ripples… are sent out just as different kind of behaviors can have the same effect.
Let's send out smiles even to so called strangers we pass on the street. When one does that it comes from God ~the heart's natural love.
Let God use us in whatever way Spirit wants to help Spirit run the World.